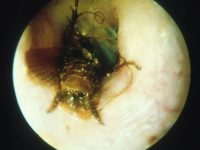 This usually occurs in children, as they tend to insert any thing into their ears while playing. In the adult, foreign bodies occur while cleaning the ear with cotton buds or other implements.
The usual foreign bodies are seeds, cotton, match sticks.
Sometimes insects may go into ear canal.
The treatment involves careful removal by a ENT surgeon under the microscope to prevent further injury.